Return to Headlines
U.S. News & World Report Best High Schools: Hewitt-Trussville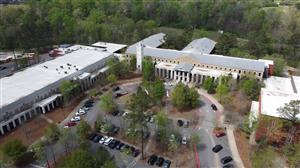 (HTHS) - Based on its admirable college-readiness factors, rigorous curricula, math/reading proficiency rankings, graduation rate, and other factors, Hewitt-Trussville High School has placed among U.S. News & World Report's Best High Schools for 2021.
"We are very proud of the continued accomplishments of our students, faculty, and staff," Hewitt-Trussville High School Principal, Mr. Tim Salem, said. "We establish clear expectations for learning outcomes through engaging and relevant learning experiences and effective, student-centered instructional strategies."
Hewitt-Trussville received an overall score of 90.51/100 - earning it 20th place for this year's rankings. The 2021 list is based on data from the 2018-2019 School Year, the latest school year for which data is available. U.S. News & World Report weighs the following factors when compiling its annual listing of America's Best High Schools:
College readiness (30%)

College curriculum breadth (10%)

Reading and math proficiency (20%)

Reading and math performance (20%)

Underserved student performance (10%)

Graduation rate (10%)
U.S. News & World Report reviewed nearly 24,000 public high schools in all 50 states and the District of Columbia for the 2018-19 School Year, ranking 17,857 of those. Among the total ranked schools, 4,465 comprise the top 25% based on the ranking methodology, which examines the above six factors. Alabama has approximately 500 public high schools.
"This high ranking is yet another example of our commitment to quality education in Trussville City Schools," Superintendent Dr. Pattie Neill said. "We work hard every day for the benefit of our students, and this ranking from U.S. News and World Report affirms our passion for helping all of our students succeed."


Hewitt-Trussville High School received an "A" on the Alabama State Department of Education (ALSDE) Report Card for the same school year measured for the U.S. News & World Report rankings (state report card grades were not given for 2019-2020). The school - and the district - also both enjoy an "A" in the annual Niche.com rankings.