Return to Headlines
Returning "Students" - Facility Dogs Skye & Bullet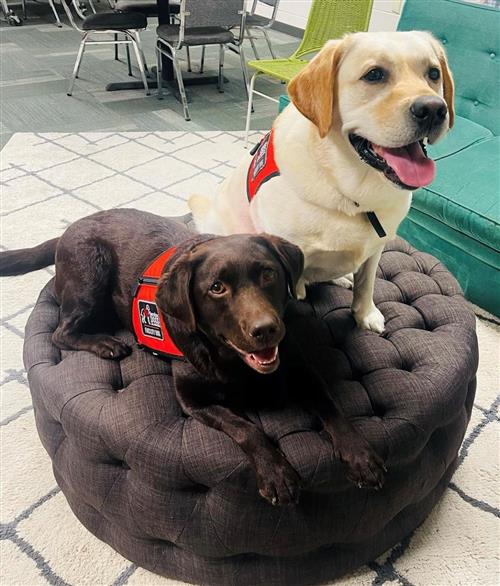 September 2, 2022
Jason Gaston, APR/TCS Public Relations

TCS - Joining the more than 5,000 students who returned to Trussville City Schools in August were two additional returning enrollees: Certified Facility Dogs Bullet and Skye.

Bullet and Skye have been with TCS since May of 2021. That's when they arrived in Trussville from Service Dogs Alabama, an organization dedicated to assisting various groups, such as students, with the social/emotional benefits of Facility Dogs. For the 2022-2023 School Year, Bullet and Skye continue to roam the halls (supervised, of course) of both TCS secondary schools: Hewitt-Trussville Middle School and Hewitt-Trussville High School. These animals provide a sense of calm for students in need.

HTMS Principal Mrs. Jennifer Abney always looks forward to a visit from Bullet, the Facility Dog based on her campus.

"We are so grateful to have Bullet as part of the HTMS family," Abney said. "He brings joy and comfort to everyone…as well as a wagging tail and sometimes his tennis ball."

HTMS Counselor Krista DeMent serves as Bullet's handler.

"Bullet has been VERY busy in the month of August. He loves going into classrooms and listening to instruction and enjoys being in the hallways during class change to get as many pets as possible from passing students," DeMent said.

DeMent and others, including HTMS Assistant Principal (and secondary handler) Erin Piper, added that Bullet has been a calming factor for many students who have come to the counseling suite. They come by for some Bullet love and leave a little better.

"Bullet provides an instant sense of calm whenever he's around. Students smile when they see him and love when he visits their classroom! Bullet is a great resource for the counseling department, especially when students are going through a difficult situation," Piper said.

That praise rings true for Laura Stalls, a guidance counselor at Hewitt-Trussville High School. She is the primary handler for Skye, the Facility Dog based on her campus.
"Skye continues to be a great support for the students of HTHS," Stalls said. "She enjoys greeting them in the counseling office and going to classrooms. She has become a faculty member for sure. She's even in the yearbook."

Both schools indicate that the Certified Facility Dogs perform extremely well with students who have special needs and even visitors who come to the campuses.

More about Service Dogs Alabama
Service Dogs Alabama provides medical and psychiatric assistance dogs to children, adults, and Veterans with disabilities, as well as Facility Dogs trained in intervention and behavior disruption for schools, courtrooms, and State Departments where stress is prevalent.
The organization dates back to 2010 when Frances McGowin and Ashley Taylor founded the K-9s 4 Kids Service Dog training program under the nonprofit umbrella of Easter Seals Alabama. Service Dogs Alabama was incorporated as an independent non-profit organization in 2015.
Service Dogs Alabama (SDA) has at least 50 dogs in training at various stages at all times to ensure the wait time for a Service Dog is less than 18 months for a fully trained dog. See more at https://www.servicedogsalabama.org/