Return to Headlines
Local Boy Scout Spearheads Paine Project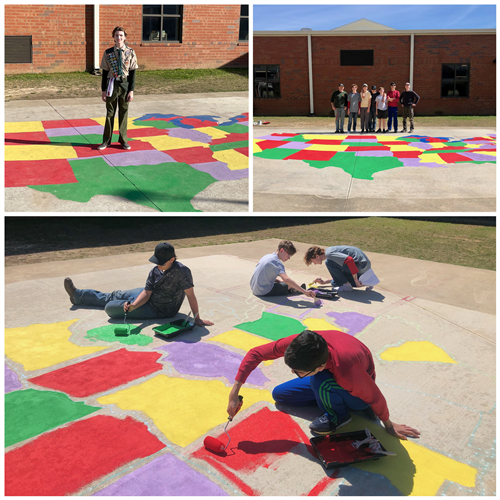 April 8, 2022

PES - Reagan White is a 17-year-old junior at Hewitt-Trussville High School. During spring break, Reagan, along with several other boy scouts from Trussville's Boy Scouts of America Troop 216, spent a portion of their time off painting a large map of the United States in the courtyard at Paine Elementary School. The map is designed to be used for educational games and applications in history, geography, economics, and politics.
Reagan worked closely with Dr. Lisa Lothspeich, principal at Paine Elementary, and other administrators to ensure the map would be a positive addition to the school and benefit both the teachers and the students. He also took the lead in making it happen, as he developed the idea of a project that would serve the community as well as highlight Reagan's love for art and all things creative. Reagan extensively planned everything from the space needed to the financial investment to the materials necessary to schedule coordination. He also organized and led volunteers throughout the completion of the project, securing financial and physical donations along the way.
The map project serves as the last big step toward the rank of Eagle Scout for Reagan. The rank of Eagle Scout is the highest and most prestigious achievement a Scout can attain. Highly respected, the rank of Eagle Scout carries with it special significance, not only in Scouting, but also in school, business, and the community. To attain the Eagle rank, a Scout must earn at least 21 merit badges, fulfill leadership roles, display outdoor skills, demonstrate by example the Scout Oath and Law, and complete a comprehensive service project in the community.
Outside of Boy Scouts, Reagan is an excellent student at HTHS. He has an A average while taking advanced and AP classes. Reagan is also involved in the theatre department at the high school (come see Mamma Mia April 28- May 1!) as well as community theatre. Reagan is in a singing group called Broadway Bound, through which he has had the opportunity to sing the National Anthem for the Montgomery Biscuits and UAB Blazers. Reagan also enjoys playing the tuba in the HTHS marching band and wind ensemble, as well as singing with the chamber choir. He has been a part of the TCS system since kindergarten and is thrilled to be able to give back to his school system through this Eagle Scout Project.
Reagan would like to thank several people whom he could not have completed the project without. Ace Hardware of Trussville donated all of the paint supplies and materials needed. Scoutmaster Kimball Karmondi, as well as several other leaders in his troop, including Karen Karmondi, advancement chairperson, and others were instrumental in making it possible. Boy Scouts who volunteered include Riley Harper, Liam McGinnis, Thomas Pair, and Luke Stutsman. Reagan would also like to thank his parents for their support and hard work. Lastly, Reagan is very grateful to his former Scout Master, Dr. Matt Brown, who served Reagan and the Trussville Troop for many, many years!
-Submitted